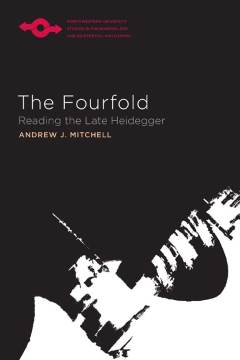 The Fourfold
Reading the Late Heidegger
Heidegger's later thought is a thinking of things, so argues Andrew J. Mitchell in The Fourfold. Heidegger understands these things in terms of what he names "the fourfold"—a convergence of relationships bringing together the earth, the sky, divinities, and mortals—and Mitchell's book is the first detailed exegesis of this neglected aspect of Heidegger's later thought. As such it provides entrée to the full landscape of Heidegger's postwar thinking, offering striking new interpretations of the atomic bomb, technology, plants, animals, weather,time, language, the holy, mortality, dwelling, and more. What results is a conception of things as ecstatic, relational, singular, and, most provocatively, as intrinsically tied to their own technological commodification. A major new work that resonates beyond the confines of Heidegger scholarship, The Fourfold proposes nothing less than a new phenomenological thinking of relationality and mediation for understanding the things around us.
Full citation:
Mitchell, A.J. (2015). The Fourfold: Reading the Late Heidegger, Northwestern University Press, Evanston, Ill.
This document is unfortunately not available for download at the moment.